Project Name:
UDesign Orders
Project Tagline:
Allow Canadel retailers to send their orders to Canadel directly from the UDesign furniture configurator.
Project Summary:
This feature allows floor sellers to send their orders directly to Canadel from the UDesign furniture configurator without the hassle of entering order details by hand.
Company:
Canadel
Project Timeframe:
1/31/2018 - 5/30/2018
Major Tasks & Responsibilities:
Develop the workflow, User Interfaces, and High Fidelity Mockups.
Platforms:
Webapp.
Design Tools / UX Methods Used:
Photoshop, Illustrator, Stakeholders interview, User Testing.
Key Performance Metrics:
203 furniture stores using this feature.
53 orders per week through this feature.
Team Members & Collaborators:
UI/UX Designer: Guilherme Negreiros (me), Team Lead: Stéphane Drouin, Frontend dev: Olivier Bellemare, Backend devs: Marc-André Lavoie, Mathieu Déziel et David Lacroix.
Link to Final Project:
Only accessible with a Canadel retailer account.
My role was to build workflows, design and test all User Interfaces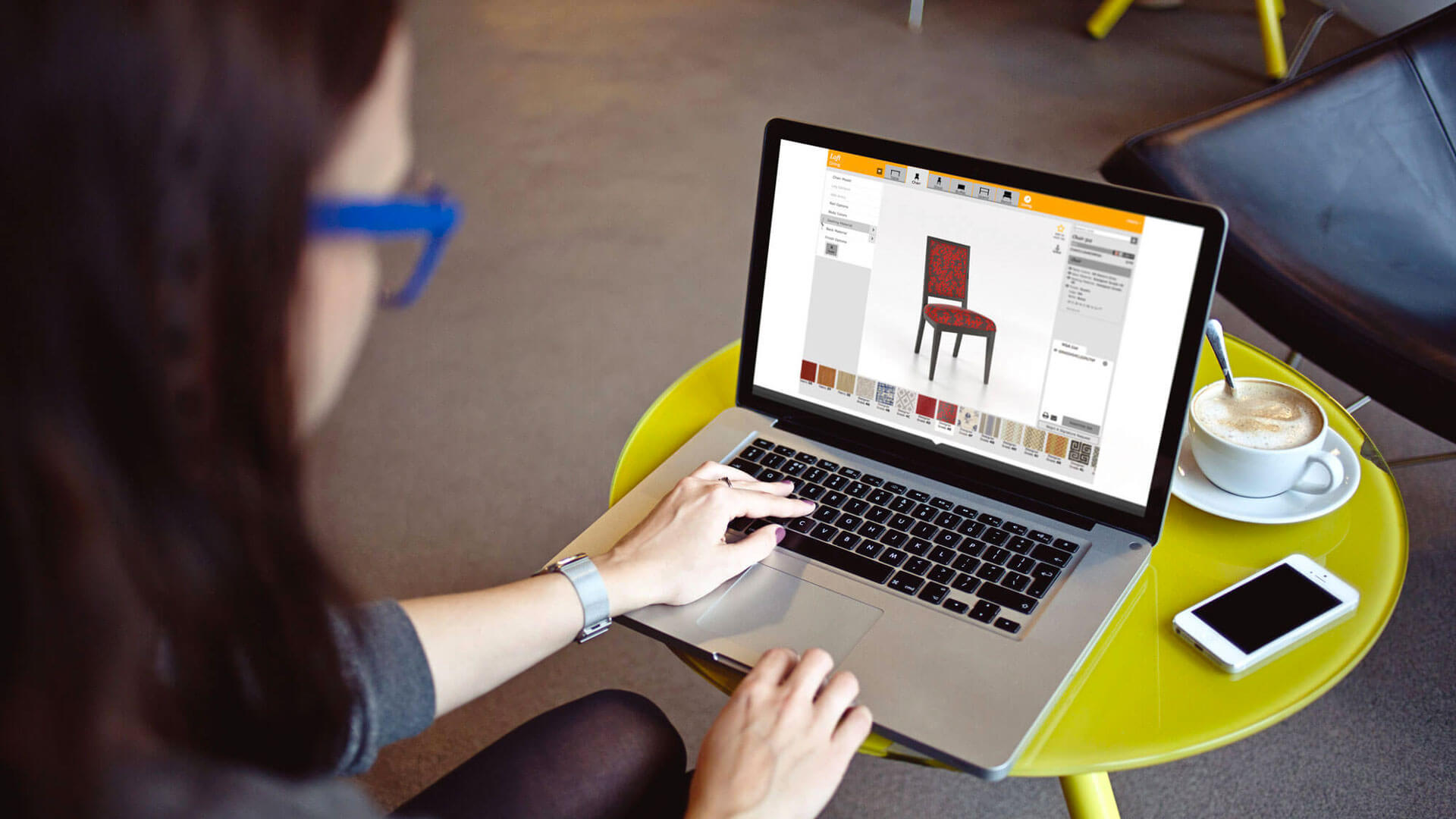 Introduction & Summary

UDesign Orders is an app feature that saves time and standardizes orders for Canadel retailers.
It removes the pain of entering order details by hand with an innovative, seamless user interface integrated after furniture customization.
My role was to build workflows, design and test all User Interfaces related to the project.
I collaborated with web developers, the sales team, and UDesign customer service to launch this feature.
My first reaction is always to take a step back to know the real problem, define the business and user goals.
After that, I studied the workflow of orders made by salespeople/buyers, provided by our customer service UDesign as well as their reception and processing at Canadel.
After that, I was able to detail the workflow for the new functionality, the access rights according to the user types, and start the models.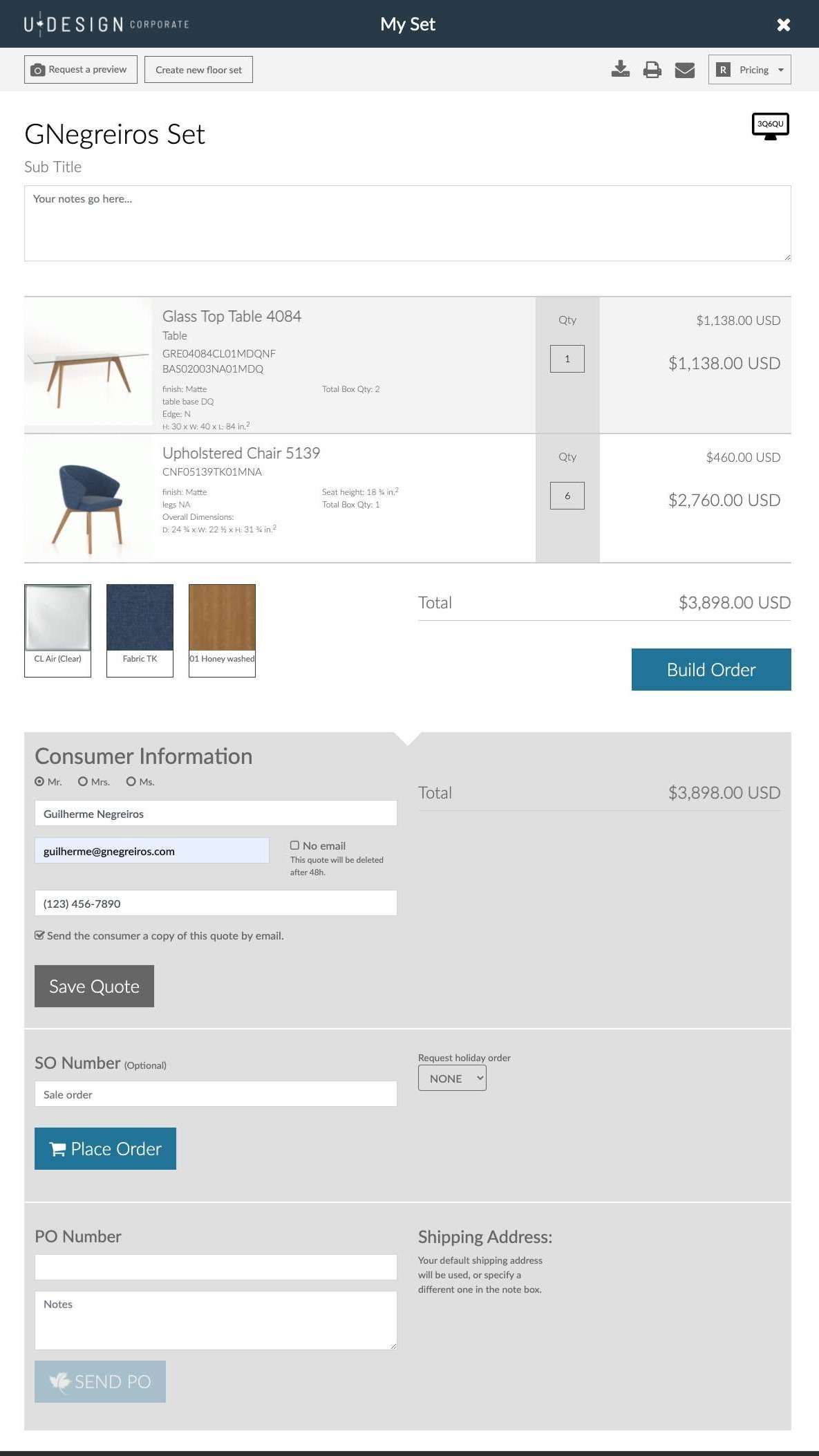 Business Goals
There wasn't standardization of the orders that arrived from our merchants by fax (often handwritten), email, or EDI.
Our goal is to simplify the preparation of the order and standardize its format and method of sending it to Canadel.
User Goals
It was not easy for retailers to prepare an order. The products are customized, so the SKUs are complex. They should copy the codes displayed on the configurator.
Here, the goal was to allow the user to create order from the configurator with the certainty of the SKUs (even more need to know them) and send it directly to Canadel.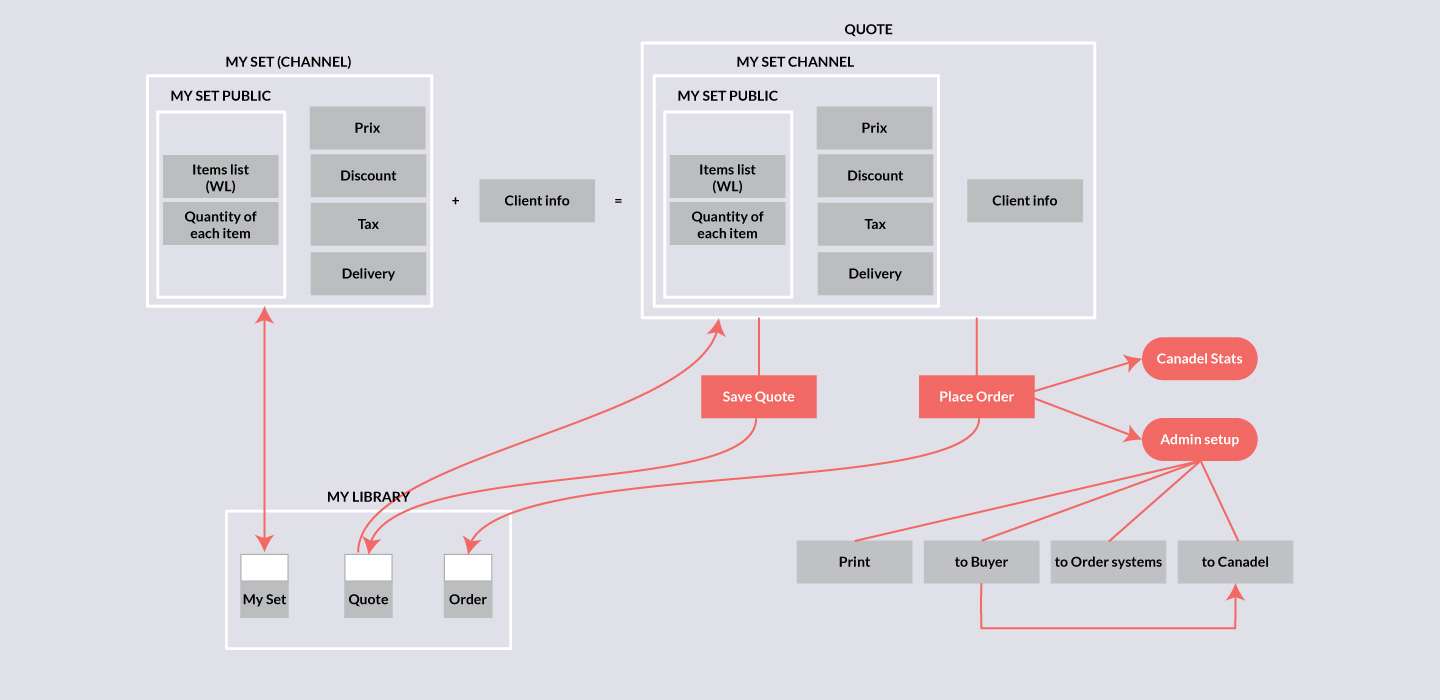 User Flows
I began by creating schemes to define the best user flows for this complex feature. I used Illustrator to iterate through this process.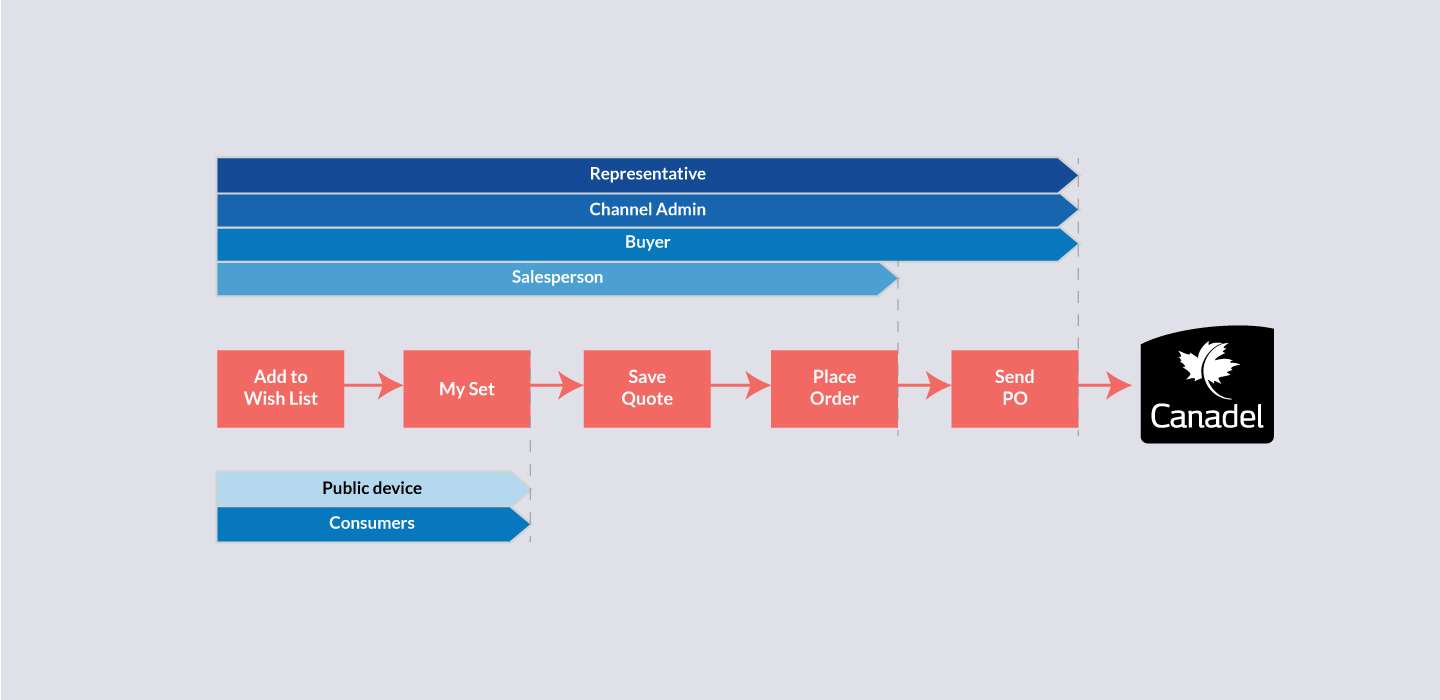 Users hierarchy
As UDesign has several user types, I created a scheme using Illustrator to define and illustrate their interaction with the Orders feature.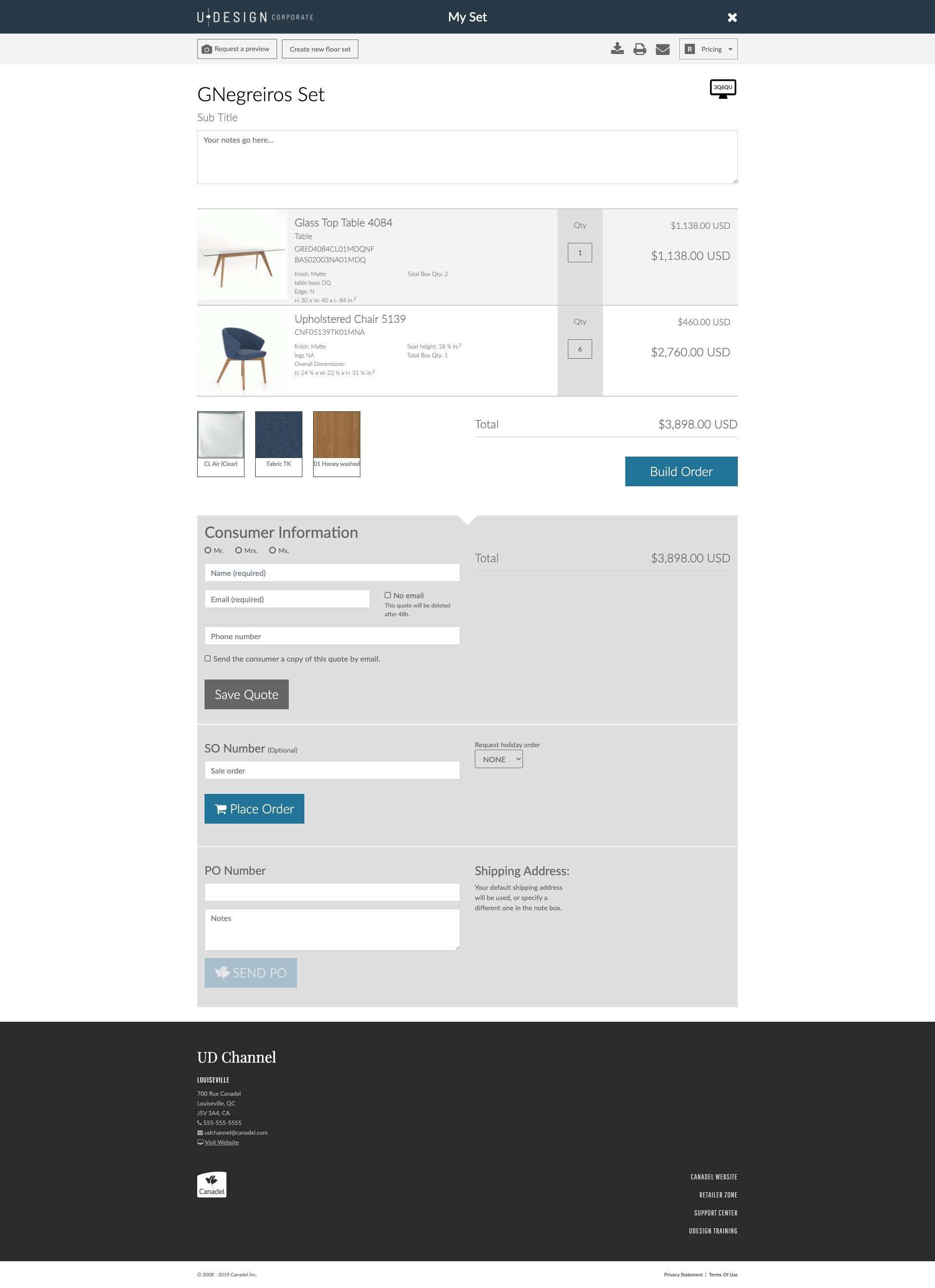 High Fidelity Mockups
Having a complete user flow, I was ready to design High Fidelity Mockups using Illustrator. It gave me a global landscape and the confidence needed to develop a beta test version.
User Testing
Our team developed a beta version only available to Canadel's representatives to get their feedback validating our assumptions.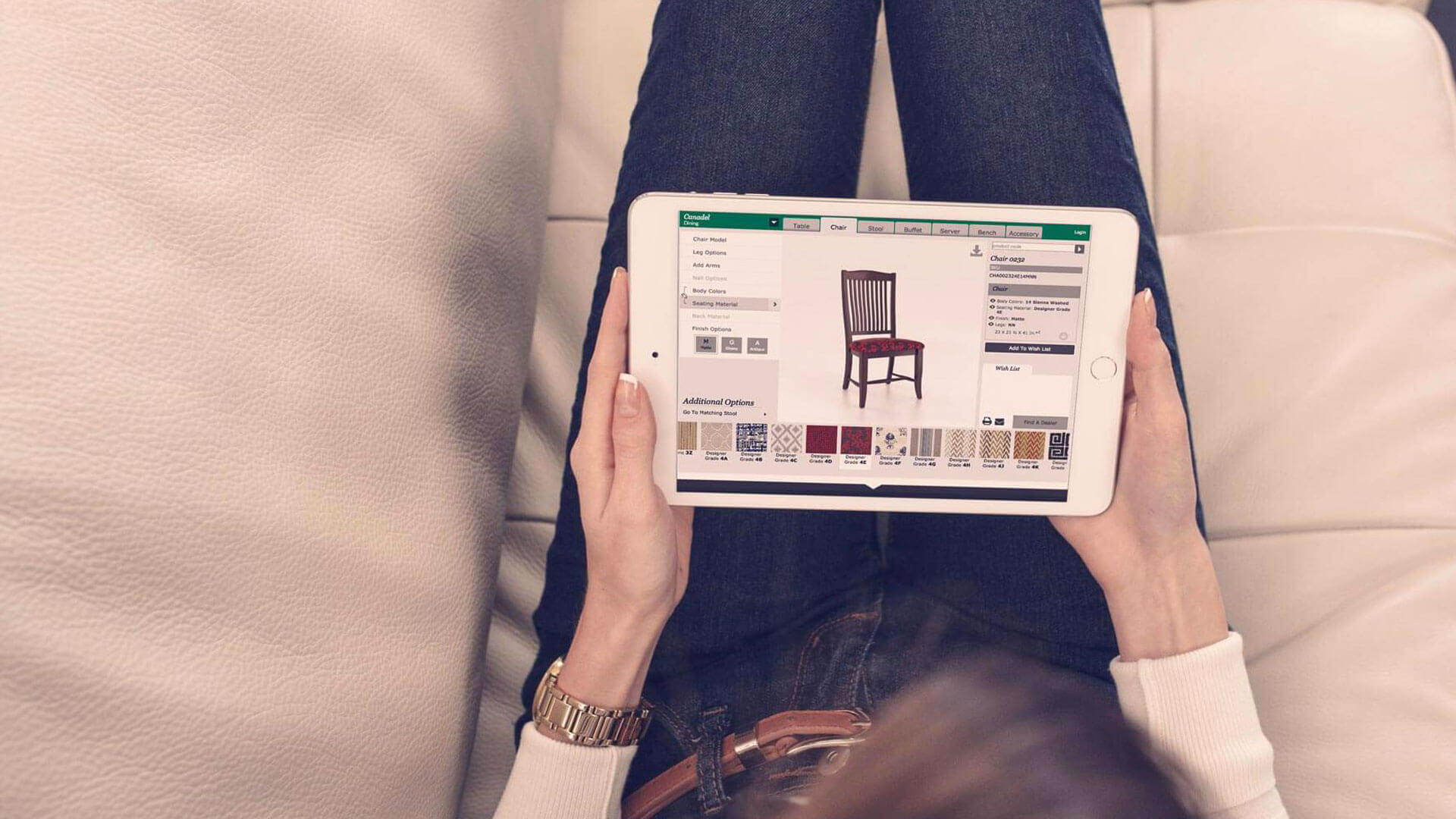 I learned about integrating many user roles into a complex task. It was challenging and fun!
The project had many challenges, but the most difficult piece was to reconcile the various work methodologies used by furniture stores spread across Canada and the United States.
I finally managed to find a common point among the most important retailers.
203 furniture stores in the United States and Canada use this feature to order Canadel furniture.

Canadel receives an average of 53 orders per week through this feature.
While the whole project was a huge learning experience, I especially loved iterating on building user flows integrating different user roles at different sale stages.
203
Furniture stores
using this feature
53
Orders/week
through this feature