Hello, my name is Guilherme, and I am a Brazilian who lives in Québec and loves this land.
I graduated in industrial design, migrated to graphic design, then to web design, and finally, in 2014, I discovered a passion for UX Design.
I currently work as a UI/UX designer, but my passion is the analytical and strategic side of UX.
Qualitative & Quantitative Research
I usually use Google Analytics and Hotjar to know the stats, but for qualitative surveys. I have been using Hotjar Surveys, TypeForm, and phone calls.
Surprises are never lacking!
Prototyping
In these last years, I have acquired good experience in making prototypes. Mostly high-fidelity prototypes intended for users and our developers.
Justinmind, Sketch, Adobe XD and Figma.
Workflows & Wireframes
I love workflows. They give me a view of everything that is not necessarily obvious. After that, the wireframes come out smoothly.
Illustrator, Miro and Figma.
Experience
UI / UX DESIGNER
Responsible for interface design, analysis, and development of workflows for Canadel web applications, especially the furniture configuration platform – UDesign (udesign.canadel.com).
Usability research, data, and testing;

Personas;

Customer Journey Maps;

Prototyping.
GRAPHIC DESIGNER
Graphic design of advertisements for magazines such as FurnitureToday.

Catalog's layout.

Graphic design, integration, and updating of the website (Magento).

Graphic design of UDesign interfaces (online furniture customization tool).

Integration and analysis of Google Analytics on the website and UDesign.
WEB DESIGNER
Design, construction and maintenance of static and dynamic websites.
What I do when I'm not working
I love contemporary Christian music and playing the drums.
I am keen on technology, and new solutions, and I don't stop reading about these topics.
Science fiction films and series are another passion. Welcome to Netflix, Disney +, and Amazon Prime.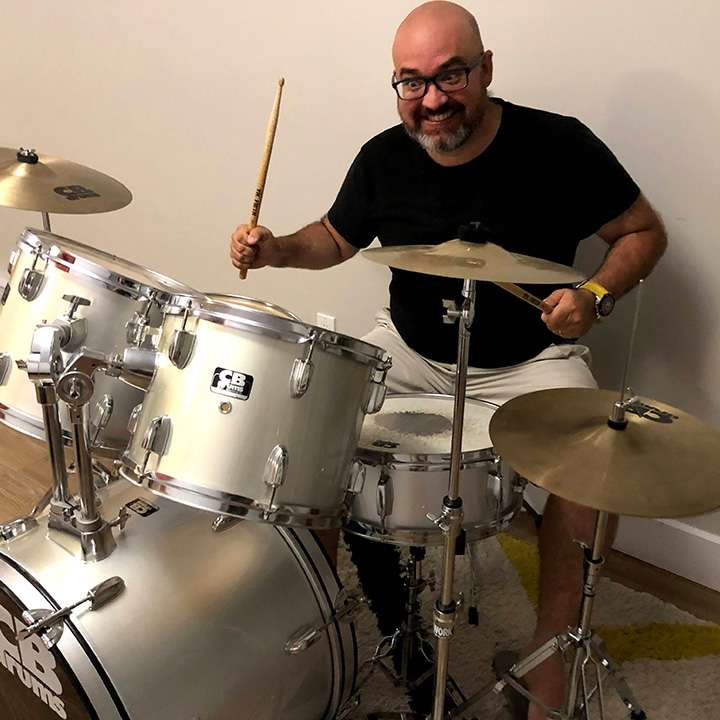 I transform this acoustic drum into a hybrid one.