Offer a good sample of Canadel products to help users customize it next.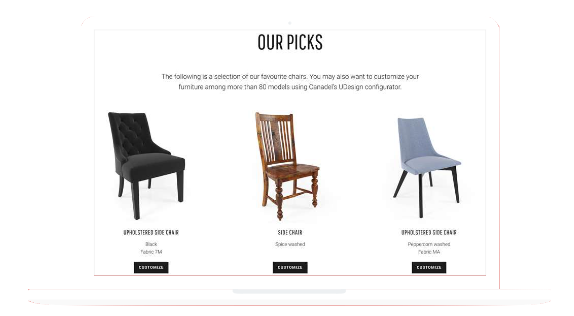 Project Name:
Canadel Catalog
Project Tagline:
Offer a good sample of Canadel products to help users customize it next.
Project Summary:
The purpose of the catalog is to solve two problems:
Fill a gap between two stages of our sales funnel: Inspiration (website) and Furniture Customization (UDesign configurator).
Be a source of product data for our reseller websites through an API.
First
Major Tasks & Responsibilities
Develop the workflow, UI and prototypes.
UX Methods
Stakeholders interview, User Testing.
Design Tools
Photoshop, Illustrator, Justinmind
Team Members & Collaborators
UI/UX Designer: Guilherme Negreiros (me), Team Lead: Stéphane Drouin, Frontend dev: Olivier Bellemare, Backend dev: Rafael Colato.
Link to Final Project
Not released due to a full rebuild decision by UDesign.
There was a missing step
in the sales funnel
Introduction & Summary
Canadel Catalog is an application that helps users personalize Canadel furniture. It removes the gap between the inspiration offered by our website and the blank page of the UDesign configurator.
My role was to research, design, and test all user interfaces related to the project. I collaborated with the design, development, and marketing team to launch this project.
Usability Review
Based on user feedback through Hotjar we conducted telephone interviews. One of the findings was that there was a missing step in the sales funnel, which made using UDesign very difficult to use.
High Fidelity Prototype
Having a complete user flow, I was ready to design a High Fidelity Prototype using Justinmind. It gave me a global landscape and the confidence needed to develop a beta test version.
During the research stage I was surprised that despite the complexity of the learning curve of our configurator, our users were satisfied and ended up buying their Canadel dining room.
The biggest challenge for me in this project was to define the catalog filters.
Define the addition and intercession rules respecting the manufacturing rules of the Canadel lines, keeping the focus on the main goal: making the user's life easier.
What I liked the most about this project was defending its importance as a step that was missing in the company's sales funnel and in the customer journey.
This is what the catalog should represent
September 2021